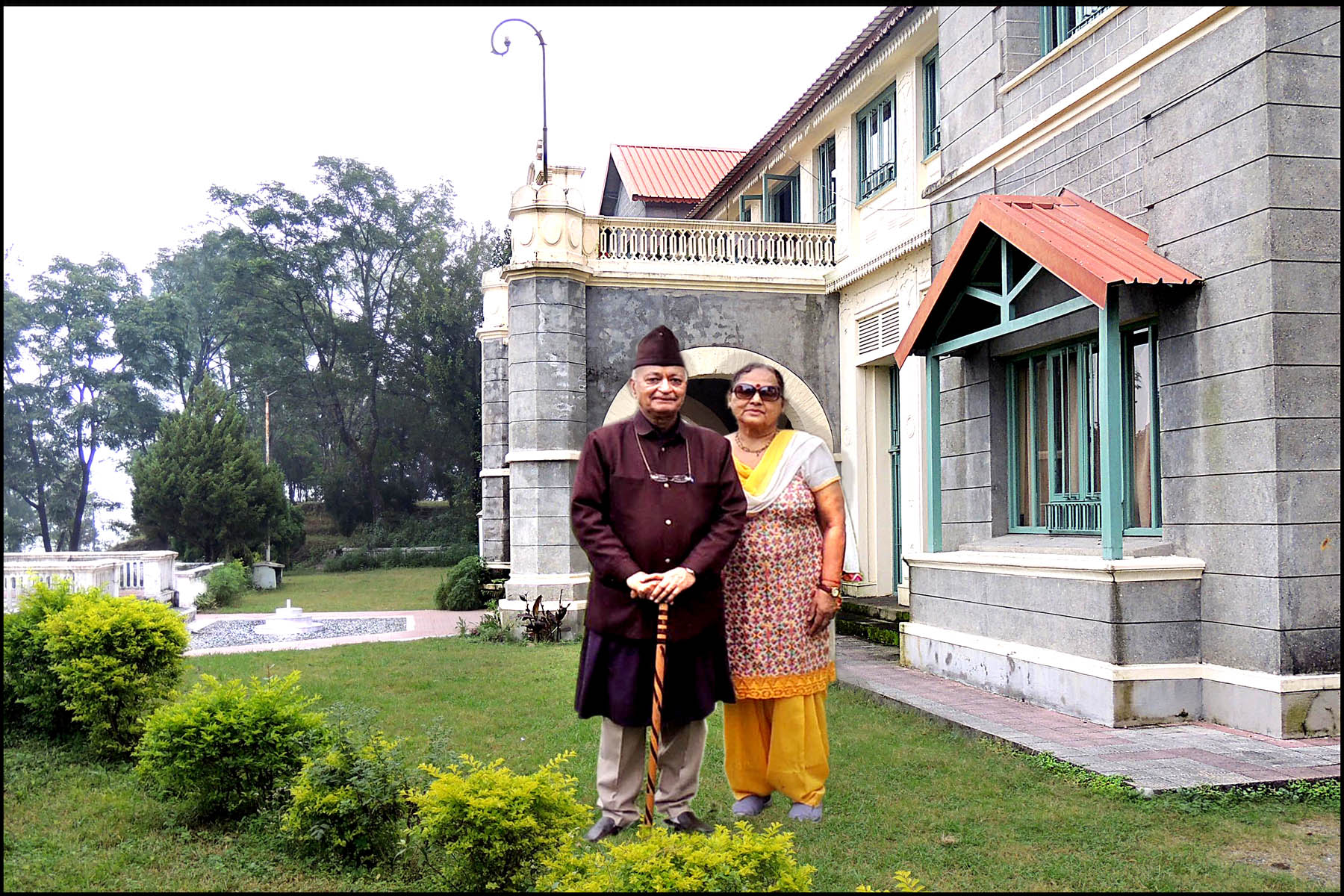 Adhyatma Sanskriti Ratna Sri Rao Vijay Parkash Singhji along with Dr. Indra Rani in the Rajbir Villa, also known as Jind Estate, which has now been converted into SOS Complex, during a visit to Bhimtal in September-October, 2017.
Human beings come and go, but values go on for a longer period". THis was stated by the renowned spirituo-cultural luminary Sri Rao Vijay Prakash Singhji during his visit to the Rajbir Villa, in Bhimtal, which has now been converted into SOS complex being used by the SOS children's Villages International and SOS V.N.Kaul Institute of education.
Originally got built by maharaja Ranbir Singh of Jind in 1922 AD and named after his son Yuvraj Rajbir singh, The whole complex was erected for the Royal and allied families of the erstwhile kingdom of Jind. Raorishi Rajguru Sri Rao Uttam Singhji of Dadri the Royal Tutor of Yuvraj Rajbir Singh, Who imparted education on the princes and princesses of Jind, besides others, strengthened and spread human values here in the 1st half of 20th century AD.
In the mortal world, where everything is short lived, persons change, situations change, things change, name change but values continue to exist for a longer period.
Here is a bit detailed report with some pics old and new.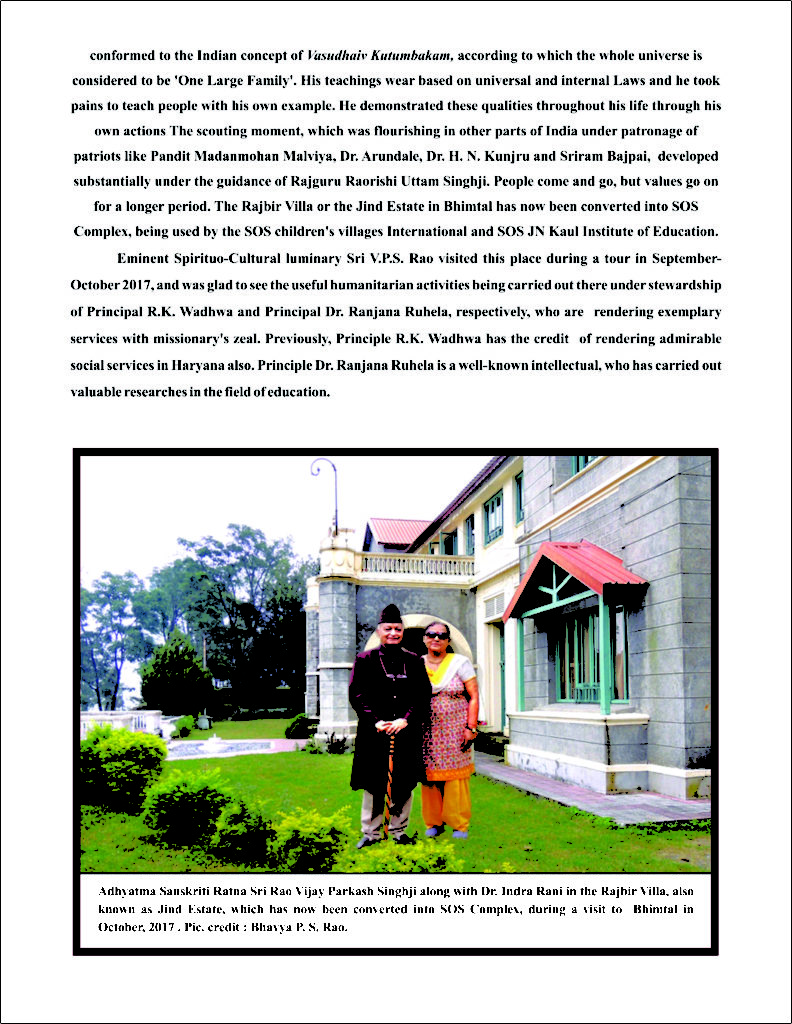 Bhimtal: Where Rajguru Raorishi Uttam Singhji Strengthened Human Values
Recently, Adhyatma Sanskriti Ratna Sri Rao Vijay Parkash Singh paid a visit to Bhimtal, where R.R. Sri Rao Uttam Singhji had strengthened human values in first half of the preceding century. Bhimtal, Which is known to have derived its name from the Bharata Prince Bhim of the Mahabharata times, is situated near Nanital in the mountain range of Uttarakhand of Bharata Varsha (India). Bhimtal is a quiet and beautiful place, with a small island in the lake, adding to serenity and charm of the place. Maharaja Ranbir Singh of Jind, who was a great lover of Nature and a renowned camper, bought a hill on the bank of the Bhimtal Lake got a mansion built in 1922 AD and named it Rajbir Villa after the name of Yuvraja Rajbir Singh. Some other buildings were also erected to accommodate some other important families of the State. The entire place was known as Jind Estate. Maharaja Ranbir Singh, along with his entourage, came here every year in March – April, stayed for about six month and went back to the State capital Sangrur in the planes of Malwa (now divided into Punjab and Haryana) in September-October before Vijayadashmi i.e. Dasehra, which was celebrated with great pomp and show at Sangrur.
Rajguru Raorishi Uttam Singhji, who, along with his family, also stayed at Bhimtal during this period as per programme. As Royal Tutor to Yuvaraja Rajbir Singh of the kingdom of Jind, Rao Uttam Singhji of Dadri, imparted education not only on the princes and princesses of Jind, including Maharajkumar Jagatbir Singh and Rajkumaris Diamond, Ruby and Beryl, but also was a source of inspiration for many.
As a great exponent of the scouting moment, he contributed towards strengthening of human values and developing of virtues in the budding generation. The movement aimed at developing character, physical health, handcraft and service for others and the community; including many a virtue like manliness, sense of honor, balanced broad minded outlook, care of the body with temperance and chastity, craft involving co-operation of hand with brain, trust worthiness, loyalty, helpfulness, friendliness, brotherhood, politeness, obedience, cheerfulness; cleanliness in thought, word and deed ; and love for God, humanity, birds, animals, plants and everything that is in Nature. These were, in fact, his own qualities, which he wanted to inculcate in others also through scouting and his own example. These qualities contributed substantially towards developing the budding boys and girls into noble citizens useful for the themselves and the society and conformed to the Indian concept of Vasudhaiv Kutumbakam, according to which the whole universe is considered to be 'One Large Family'. His teachings wear based on universal and internal Laws and he took pains to teach people with his own example. He demonstrated these qualities throughout his life through his own actions.
The scouting moment, which was flourishing in other parts of India under patronage of patriots like Pandit Madanmohan Malviya, Dr. Arundale, Dr. H. N. Kunjru and Sriram Bajpai,  developed substantially under the guidance of Rajguru Raorishi Uttam Singhji. People come and go, but values go on for a longer period. The Rajbir Villa or the Jind Estate in Bhimtal has now been converted into SOS Complex, being used by the SOS children's villages International and SOS JN Kaul Institute of Education. Eminent Spirituo-Cultural luminary Sri V.P.S. Rao visited this place during a tour in September- October 2017, and was glad to see the useful humanitarian activities being carried out there under stewardship of Principal R.K. Wadhwa and Principal Dr. Ranjana Ruhela, respectively, who are  rendering exemplary services with missionary's zeal. Previously, Principle R.K. Wadhwa has the credit of rendering admirable social services in Haryana also. Principle Dr. Ranjana Ruhela is a well-known intellectual, who has carried out valuable researches in the field of education.
Here is a brief historical background of the place, in Hindi, the national language of India. The author Sri Rao V.P.S. , who has been devoting himself to the cause of preservation and propagation of Indian culture, in numerous ways, for the last about half a century, has written hundreds of literary works in English, Hindi and Panjabi. These works include articles, researches, critiques, comments, interviews, features, survey reports and books, on a large variety of subjects, in English, Hindi and Panjabi, besides contributing towards editing of a pretty good number of publications. The news report and Sri Rao's article appeared in THE MEDIA EXPRESSION and the Chandibhumi news papers.